Main Content Starts Here, tab to start navigating
Yates Event Center in Murray, KY
Slide 1 of 8
Slide 2 of 8
Slide 3 of 8
Slide 4 of 8
Slide 5 of 8
Slide 6 of 8
Slide 7 of 8
Slide 8 of 8
Find our Virtual Tour here!
https://goo.gl/maps/PwY6vi3igmfXbGWM8
Venue
A Stunning Wedding & Event Venue
Yates Event Center is truly a place to behold. With over 27 acres of scenic landscapes depicting lush green hills and forestry, you'll soon see why so many are left in awe of its beauty. Nestled in Murray, KY, Yates Event Center offers brides and clients alike a breathtaking place to hold their most special occasions. Our venue features spacious areas that include a main room of 3600 sq ft and a second room of 800 sq ft. Between these two stunning areas we can easily accommodate up to 300-325 guests. The Newest addition, The Chapel. A gorgeous hall overlooking the pond with an outdoor feel with three raising glass doors to give you a perfect option for an outdoor ceremony, no matter the weather. And just beyond, we also house our Clubhouse perfect for rehearsal dinners, baby showers, birthdays, groom suit and more! With an elegant bridal suit , a stunning central fireplace and amble catering kitchen, you'll have everything you need to perfect your special occasion. Just outside the venue, our grounds amaze guests with enchanting scenery and a serene pond perfect for photo shoot sessions!
Create a Memorable Experience
There's no better place to host your wedding or special occasion than Yates Event Center. With unmatched service and views, glorious grounds and amble space you and your guest will be afforded all the comforts and luxuries you need to create a lasting, memorable experience.
We offer weekend wedding and event packages for the ultimate all-inclusive treatment. To learn more details on pricing, please give us a call today at (270) 293-1121.
Venue Amenities
Indoor and outdoor ceremonies
Overlooking a beautiful Pond
Stunning main room of 3600 sq feet
The Chapel
27 acres of stunning property
Spacious second room of 800 sq feet
Large kitchen area
Catering
Tables & chairs
800 sq foot bridal suite
Capacity to hold 300-325
Clubhouse that holds up to 75 guests
Handicap accessible
The Clubhouse at the Yates Events Center
Our Facilities
Between several stunning areas of our venue, we offer guests nearly 7,500 sq ft of space to host their occasions. Encased in rich, amber-tones brick and dark wood beams, Yates Event Center is truly equisiste. With an open pavillion, there sits one of our most notable highlights, a tall, brick fireplace perfect for photo opportunities and more.
The Grounds
The Yates Event Center is located among the beautiful foothills of Murray, KY. Settled upon 27 acres of green, rolling landscape that gives way to an enchanting forest beyond, you'll be amazed at the grandeur of our outdoor space. In fact, many brides choose to host outdoor wedding ceremonies just beyond our serene pond and green pastures. The Chapel at Yates Event Center (Coming Soon 2022) will give another option for a ceremony overlooking the pond but with a worry-free guarantee if weather does not cooperate!
Slide 1 of 5
Slide 2 of 5
Slide 3 of 5
Slide 4 of 5
Slide 5 of 5
Our Amenities
We have amenities galore here at Yates Center. As owners of The Keg Restaurant, we offer a spacious kitchen where we provide catering services that are second to none! Additionally, our venue includes tables, chairs, a massive bridal and groom suite, weekend packages and so much more! Call us today to learn more about our additional venue features and pricing!
Slide 1 of 3
Slide 2 of 3
Slide 3 of 3
The Chapel
Our newest addition! The Chapel gives you a safe option of having an indoor or outdoor ceremony, no matter the weather!
About Us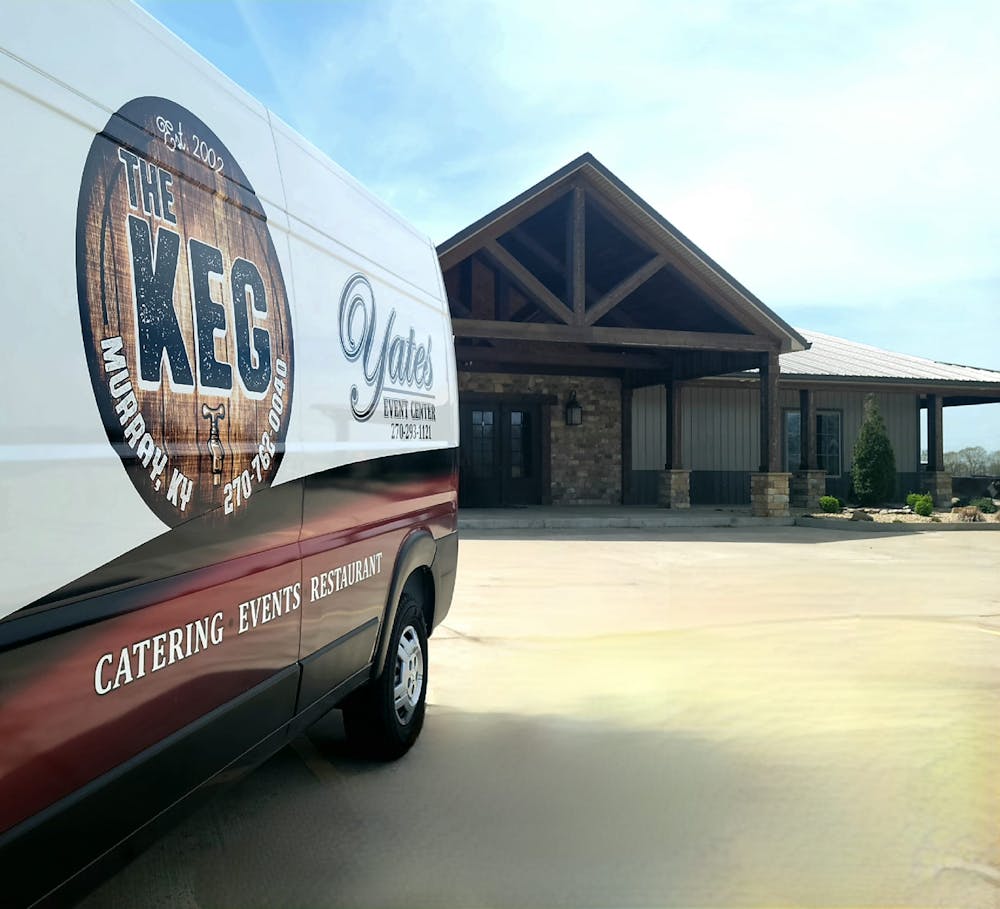 Since our official opening in October of 2017, Yates Event Center has been creating memorable, once in a lifetime experiences for brides and clients alike. As an exclusive wedding and event venue with a nearly combined space of 7,500 sq ft, you'll have more than enough room and beauty to host a stunning occasion. Our venue has it all: from a serene pond overlooking 27 acres of landscape to an enchanting brick fireplace, catering kitchen and bridal suite! Plus, as owners of The Keg restaurant, we offer catering services that are second to none for all your special occasions! And with beautiful tables and chairs, twinkling chandeliers, you'll be confident in your decision to choose Yates Event Center for your event.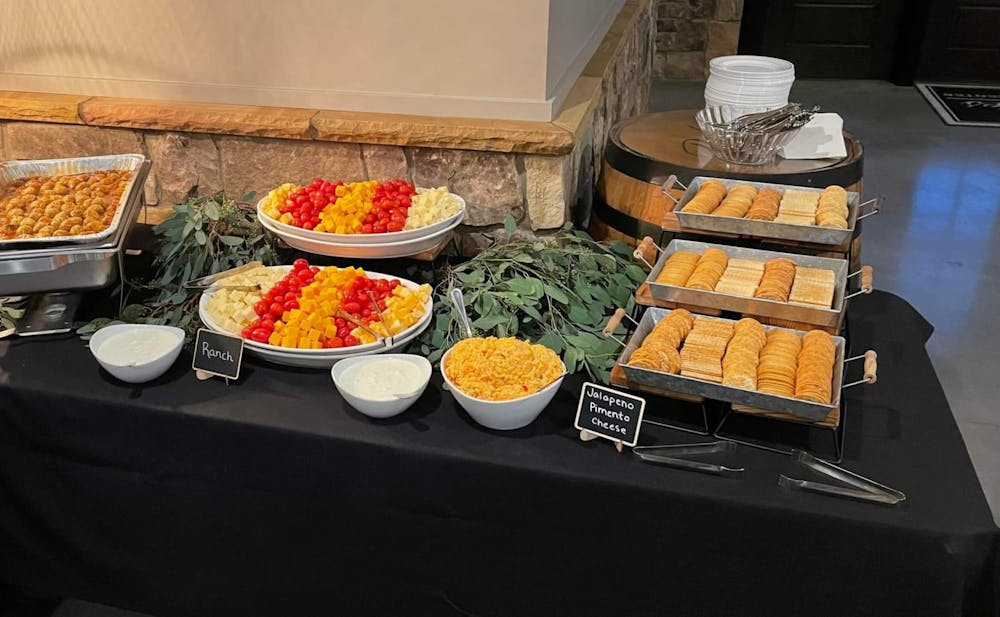 Visit Our Restaurant
When you're looking for a place to enjoy all the flavor and zest New Orleans has to offer then you don't have to travel any further than The Keg. Located right here in Murray, KY our menue is inspired by the Cajun cuisines of the South you won't want to miss out on! As part of our venue services as well, we offer catering at the Yates Event Center!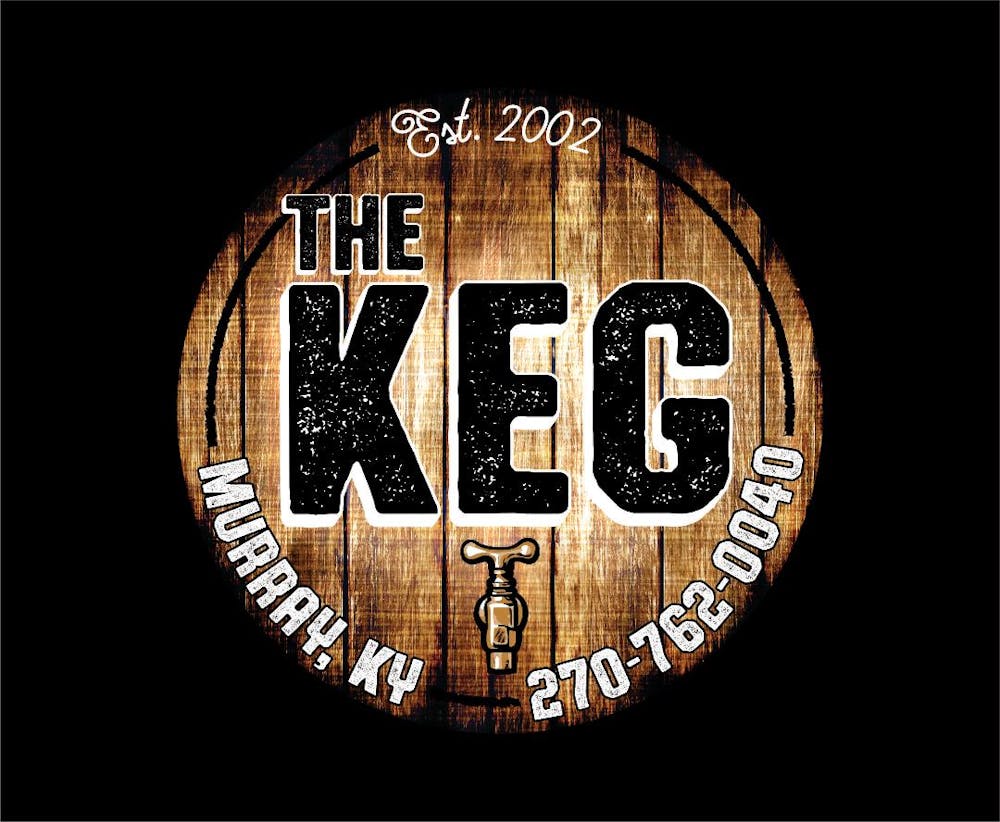 Privacy Policy
This privacy policy discloses the privacy policies of Yates Event Center and only applies to information collected by this website, www.yateseventcenter.net.
Information Collection
Yates Event Center collects information from you under the following two circumstances:
Information Collected Automatically - Some information is collected from you automatically when you view Yates Event Center pages and download information. This may include your Internet Protocol address assigned by your Internet Service Provider, domain name and the type of browser and operating system you used, the date and time you accessed Yates Event Center site, the pages you requested and visited, and the site you linked from to reach Yates Event Center uses this type of information to statistically measure site traffic and to improve the web site. The information is not reviewed on an individual basis, but is aggregated with other users for comparison purposes.
Information Voluntarily Submitted - Additional information may be collected from you if you opt in or voluntarily provide it in order to fulfill a request for on-line services.
Yates Event Center uses the information you voluntarily provide to tailor our site to your needs and preferences and to provide the on-line services you are requesting. The type of information we collect will vary with the service being sought and may include your name, address, phone number, and e-mail address. If you simply wish to view pages on Yates Event Center site, or conduct transactions, you do not need to personalize the site by registering for an account.
Registration
If you choose to register for anything on our site, you may be required to give certain information (such as email address or name). This information may be used to contact you about the products/services on our site in which you expressed interest.
Orders
If you choose to purchase a product or service from our website, certain information may be required including financial information. This information will be used only for billing and order fulfillment purposes. If we have trouble processing an order, we'll use this information to contact you. Unless you ask us not to, we may contact you via email in the future to tell you about specials, new products or services, or changes in this privacy policy. You may opt out of any future contacts from us at anytime. You can do this by contacting us via email or phone number displayed in the contact information on the website.
Cookies
Yates Event Center does not utilize cookies at this time. This, however, does not mean that Yates Event Center will not use cookies in the future. If changes to our cookie policy are made this page will be updated to reflect the changes. Usage of a cookie is in no way linked to any personally identifiable information on our site.
Information Collection, Use, and Sharing
We are the sole owners of the information collected on this site. We only have access to/collect information that you voluntarily give us via email or other direct contact from you. We will not sell or rent this information to anyone. We will use your information to respond to you, regarding the reason you contacted us. We will not share your information with any third party outside of our organization, other than as necessary to fulfill your request. Unless you ask us not to, we may contact you via email in the future to tell you about specials, new products or services, or changes to this privacy policy.
Information Sharing and Disclosure
Yates Event Center will only send personal information about you to others when:
we have your consent to share the information
we need to share your information to provide the product or service you have requested
Security
We take precautions to protect your information. When you submit sensitive information via the website, your information is protected both online and offline. Wherever we collect sensitive information (such as credit card data), that information is encrypted and transmitted to us in a secure way. You can verify this by looking for a closed lock icon at the bottom of your web browser, or looking for "https" at the beginning of the address of the web page. While we use encryption to protect sensitive information transmitted online, we also protect your information offline. Only employees who need the information to perform a specific job (for example, billing or customer service) are granted access to personally identifiable information. The computers/servers in which we store personally identifiable information are kept in a secure environment.
Changes to this Privacy Policy
Yates Event Center may amend this policy from time to time. Yates Event Center will prominently display on this website any substantial change in the way we use your personal information.